POST MARINE BOAT COVERS
ABOUT POST MARINE BOATS
Building boats since 1957, Post Marine constructed large motor yachts in New Jersey. Ranging between 42 and 56 feet in length, Post Marine vessels offer comfortable cabins. In 2012, a family-owned company based in Maryland has entered into an agreement to restart production of Post Marine yachts.

Find your POST MARINE boat cover below: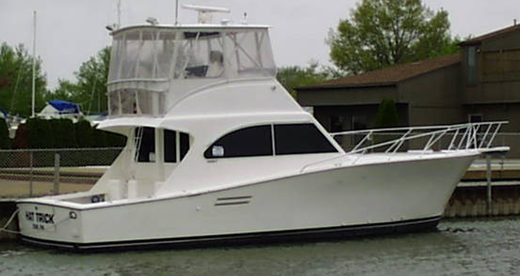 Popular Post Marine Boat Models:
POST 34/DC
POST 34/SF
POST 34/SP
POST 37/DC
POST 37/SE
POST 37/SF
POST 37/SP
POST 38/SF
POST 40/CR
POST 40/FS
POST 40/MY
POST 40/SF
POST 40/SP
Post Marine Facts:
The company was founded by Russell Post, who had previously co-founded the original Egg Harbor Yacht Company. He was well-suited for the task, for at the age of 15, he had built his first boat in which he later won an international sailing championship. Russell always approached boat building with the same energy and enthusiasm. For example, he sold his only car in order to purchase the cedar needed to build the very first Egg Harbor (hull #1). Other operating funds were generated by building and selling small skiffs and sailboats. The natural inlets of the South Jersey coast, where currents scoured the channels and ocean waves crashed through unchecked, proved to be an ideal testing ground for those early models. Mr. Post made it a point to personally run each boat in order to assure its seaworthiness in all sea conditions.