PRO LINE BOAT CO COVERS FROM NATIONAL BOAT COVERS
National Boat Covers offers the widest variety of high-quality boat covers for Pro Line Boats. Choose the perfect fit boat cover for your exact model and size Pro Line Boat using our drop down selector menu. Our boat covers are made with waterproof heavy-duty marine grade fabrics such as Sunbrella, Sunflair, and Marinex. These are the best semi-custom fit covers on the market today.
Call our USA based cover experts for assistance. 800.616.0599.

Find your PRO LINE BOAT CO boat cover below: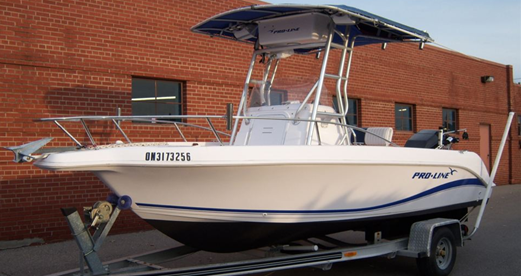 ABOUT PRO LINE BOAT CO
Started in 1968 as a builder of guide boats, Pro-Line Boats has since provided medium scale fishing craft in various consumer as well as commercial customers. Offering center console, dual console and cabin models, numerous Boat of the Year awards and Product Excellence Awards precedes the reputation of Pro-Line Boats. All current Pro-Line boats are constructed with wood-free fiberglass hulls protected by 10-year transferable warranty.
PRO LINE BOAT CO FACTS
The award-winning Design Team at Pro-Line works around the clock on existing boats and future models. Professionally trained in Maritime Studies and Engineering, only state of the art equipment is used in the design of each and every Pro-Line. Advancements in technology coupled with the expertise of our Design Team ensure the first boat off the line runs properly right out of the box! Beginning with Computer Aided Design (CAD) programming each new model is rendered online in 3D animation. This includes every piece of the boat, exterior and interior. Then weight ratios of lamination schedules and measurements are calculated to position the proper X dimension of the boat. This guarantees optimum performance. For over 40 years we have relentlessly researched new and innovative ways to make your boating experience more enjoyable. And all of us have the Pro-Line Design Team to thank for that!
Popular Pro Line Boat Co  Boat Models:
32 EXPRESS
32 EXPRESS CRUISER
35 EXPRESS
35 SUPER SPORT
SE 150 SPORTSMAN
SE 150 STALKER
SE 153 STALKER
SE 16 CC MEDALLION
SE 16 CENTER CONSOLE
SE 16 PRO-SKIFF
SE 16 SPORTSMAN
SE 16 TWIN MEDALLION
SE 17 CC
SE 17 CENTER CONSOLE
SE 17 CLASSIC
SE 17 PRO-LINE
SE 17 SPORT
SE 17 SPORT CENTER CONSOLE
SE 17 SPORTSMAN
SE 170 SPORTSMAN
20 BAY/FO
20 EXPRESS
20 SPORT
21 CENTER CONSOLE
22 BAY/FO
23 BAY
23 CENTER CONSOLE
23 DUAL CONSOLE
23 EXPRESS
23 SPORT
23 XP
25
26
26 EXPRESS
26 SUPER SPORT
26 XP
27
29 EXPRESS
29 GRAND SPORT
29 SUPER SPORT
SE 170 STALKER
SE 18 FLATS
SE 18 SPORT UTILITY
SE 180 SPORT UTILITY
SE 180 SPORTSMAN
SE 180 STALKER
SE 183 FLATS
SE 183 STALKER
SE 19 SPORT
SE 19 TWIN MEDALLION
SE 190 PRO-LINE
SE 190 SPORTSMAN
SE 190 STALKER
SE 192 SPORT TWIN CONSOLE
SE 192 SPORTSMAN TWIN
SE 192 TC SPORTSMAN
SE 20 BAY
SE 20 CC
SE 20 CENTER CONSOLE
SE 20 CLASSIC