RINKER BOAT COVERS FROM NATIONAL BOAT COVERS
National Boat Covers offers the widest variety of high-quality boat covers for Rinker Boats. Choose the perfect fit boat cover for your exact model and size RInker Boat using our drop down selector menu. Our boat covers are made with waterproof heavy-duty marine grade fabrics such as Sunbrella, Sunflair, and Marinex. These are the best semi-custom fit covers on the market today. Call our USA based cover experts for assistance. 800.616.0599.

Find your RINKER BOAT CO boat cover below: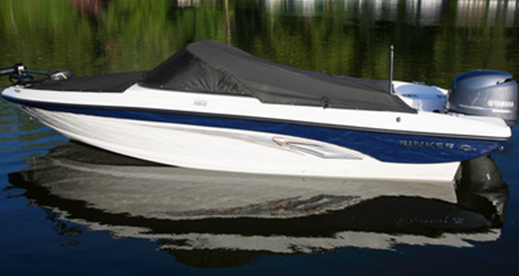 ABOUT RINKER BOAT CO
Manufactured within the Nautic Global Group of recreational watercraft, Rinker Boat Company has existed since 1945. Offering sport and cabin cruiser varieties of recreational boats, there is a wide range of Rinker products to suit on-water tastes. Fiberglass construction is incorporated on all current Rinker boats.
RINKER BOAT CO FACTS 
When you're looking at family sport boats or express cruisers, sooner or later it all comes down to one word: value. As in best-boat-for-the-money value. Rinker Express Cruisers and Captiva Sport Boats give you the cutting-edge designs, incredible standard features, head-turning style, and superior performance you want ... all at a price that makes sense for your family. Rinker boats have evolved over the years, but one thing hasn't changed - they still believe in giving you the best value on the water.
Popular Rinker Boat Co Boat Models:
209 CAPTIVA
209 CAPTIVA CUDDY
210 CAPTIVA/BR
210 CAPTIVA/CD
210 MTX/BR
210 MTX/CD
212 CAPTIVA
212 CAPTIVA BOW RIDER
212 CAPTIVA CUDDY
212 CAPTIVA R1/SK
212 CAPTIVA RX1/SK
212 CAPTIVA/BR
212 CAPTIVA/CD
212 FESTIVA CUDDY
216 CAPTIVA/BR
216 R CAPTIVA/BR
220 MTX/BR
220 MTX/CD
226 CAPTIVA/BR
226 R CAPTIVA/BR
170 CAPTIVA
180
180 BOWRIDER/RB
180 SS
181
182/RB
186 CAPTIVA
186 CAPTIVA/BR
186 FS CAPTIVA/BR
190 CAPTIVA
190 CUDDY
190 DECK BOAT
190 MTX/BR
192 CAPTIVA/BR
196 CAPTIVA/BR
200 MTX/BR
202 FESTIVA CUDDY
204 DECK BOAT
206 CAPTIVA
206 CAPTIVA CUDDY

226-XL CAPTIVA/BR
226-XL R CAPTIVA/BR
228 CAPTIVA/DB
228 FLOTILLA/DB
228 R CAPTIVA/DB
230 ATLANTIC/CC
230 CAPTIVA/CD
230 EXPRESS CRUISER
230 FESTIVA CUDDY
230C EXPRESS CRUISER
232 CAPTIVA
232 CAPTIVA BOW RIDER
232 CAPTIVA CUDDY
232 CAPTIVA CUDDY R2/SK
232 CAPTIVA R2/SK
232 CAPTIVA RX2/SK
232 CAPTIVA/BR
232 CAPTIVA/CD
236 CAPITVA CUDDY
236 CAPTIVA