ROBALO BOAT COVERS FROM NATIONAL BOAT COVERS
National Boat Covers offers the widest variety of high-quality boat covers for Robalo Boats. Choose the perfect fit boat cover for your exact model and size Robalo Boat using our drop down selector menu. Our boat covers are made with waterproof heavy-duty marine grade fabrics such as Sunbrella, Sunflair, and Marinex. These are the best semi-custom fit covers on the market today.
Call our USA based cover experts for assistance. 800.616.0599.

Find your ROBALO boat cover below: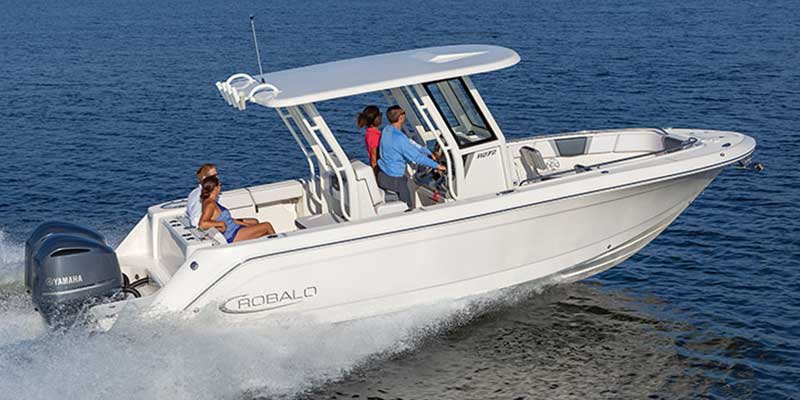 ABOUT ROBALO BOATS
An accomplished name in the boating industry, Robalo has been building watercrafts as well as an aspiring reputation since 1968. Constructing fiberglass vessels for family fishing and recreation, Robalo provides single and multiple outboard motor propulsion. Center console, dual console and walkaround hull configurations are part of the Robalo boat line.
Call our USA based cover experts for assistance. 800.616.0599.
ROBALO FACTS 
Robalo has become a leader in the marine industry because of rich history, diverse product line, profit-minded business practices and solid management. Cutting edge technology and a time tested history create excitement and a sense of confidence. Value-oriented pricing sells. Aggressive marketing gets the word out. At a time when the headlines are filled with companies sinking or needing bailouts to stay afloat, Robalo's strong balance sheet provides a solid foundation for a dealer to build on.
Popular Robalo Boat Models:
R200/CC
R207/DL
R220/CC
R222/CC
R225/WA
R227/DL
R240/CC
R245/WA
R247/DL
R260/CC
R265/WA
R300/CC
R305/WA
R
2140
2160
2240
2440
2445
R
180 CENTER CONSOLE
190 CENTER CONSOLE
200 CENTER CONSOLE
206 CAYMAN/CC
211 BAY BOAT
220 CENTER CONSOLE
225 FX WALKAROUND
225 WALKAROUND
227 DUAL CONSOLE
230 CENTER CONSOLE
235 WALKAROUND
240 CENTER CONSOLE
245 WALKAROUND
247 DUAL CONSOLE
260 CENTER CONSOLE
265 WALKAROUND
295 WALKAROUND
300 CENTER CONSOLE
305 WALKAROUND
R180/CC