SANGER BOAT MFG BOAT COVERS FROM NATIONAL BOAT COVERS
National Boat Covers offers the widest variety of high-quality boat covers for Sanger Boats. Choose the perfect fit boat cover for your exact model and size Sanger Boat using our drop down selector menu. Our boat covers are made with waterproof heavy-duty marine grade fabrics such as Sunbrella, Sunflair, and Marinex. These are the best semi-custom fit covers on the market today.
Call our USA based cover experts for assistance. 800.616.0599.

Find your SANGER BOAT MFG boat cover below: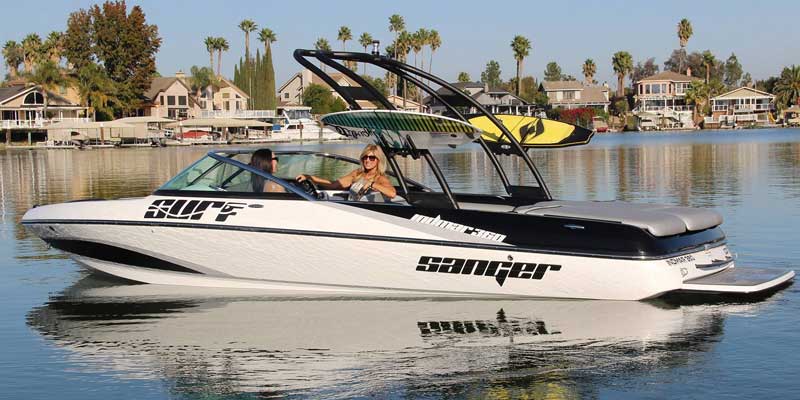 ABOUT SANGER BOAT MFG
Founded by life-long boating enthusiast John Davidson in 1954, Sanger Boat Manufacturing began building high-speed watercraft for drag racing. Sanger Boat Manufacturing began selling boats through retail channels in the 1970s, the performance watercrafts produced by the California marine company are renowned for jet drive and inboard powerplants.
SANGER BOAT MFG BOAT FACTS
A craftsman is defined as one who creates or performs with skill or dexterity in the manual arts. At Sanger Boats, craftsmanship is still an art. They build wakeboard boats and ski boats with precision and care, one at a time. Every one of the limited production masterpieces takes shape in their ten acre facility in the heart of California's central valley. The climate in this area has proven to be the perfect blend of heat and humidity for producing the world's finest boats. Each boat is rigged by one individual. This ensures that no function was missed, unlike mass production facilities. Almost all of the small parts are built under one roof to ensure that customers receive the best quality that money can buy. Little details like through-bolted motor mounts and bilge pumps that are mounted to aluminum plates ensure the manufacturing integrity. 
Popular Sanger Boat MFG Models: 
CIRCLE RUNNER
CIRCLE SKI
CLASSIC
CLIMAX DRAG HYDRO
CLIMAX DRAG HYDRO JR
CUSTOM SPRINT
D 215
DAY CRUISER
DLX
DLX
DRAG HYDRO
DRAG HYDRO CLIMAX
DRAG HYDRO CLIMAX JR
DRAG RUNNER
DX II
DX II BAREFOOTER
FAMILY SKI
HYDRO
JET 18
MINI CRUISER
20 DLX
20 DX II
20 DX II BAREFOOTER
20 MINI CRUISER
20 SE
21 TX
22 FX
ALLEY CAT
ALLEY CAT 20
ALLEY CAT 23
ALLEY CAT 29
ALLEY CAT OFFSHORE PLSURE
ALLEY CAT TWIN
ALLEY TUNNEL HULL
BAREFOOTER
BAREFOOTER SKIER
BUBBLEDECK
BUBBLEDECK SKI
CABIN
CATALINA
MINI CRUISER BOWRIDER
MOD VP
OFFSHORE
PICKLEFORK SKI HYDRO
SANG AIR
SANGER CABIN
SANGER CABIN CRUISER
SANGER CABIN OFFSHORE
SANGER FX OPEN BOW
SANGER SKIER
SANGER SKIER BR
SANGER SKIER DX
SANGER SKIER DX II
SANGER SKIER FX
SANGER SKIER SE
SANGER SKIER TX
SANGER SPORT DECK
SANGER SPRT DECK OFFSHORE
SKI DRAG
SKI TUG