SEAFOX BOAT CO BOAT COVERS FROM NATIONAL BOAT COVERS
National Boat Covers offers the widest variety of high-quality boat covers for Sea Fox Boats. Choose the perfect fit boat cover for your exact model and size Sea Fox Boat using our drop down selector menu. Our boat covers are made with waterproof heavy-duty marine grade fabrics such as Sunbrella, Sunflair, and Marinex. These are the best semi-custom fit covers on the market today.
Call our USA based cover experts for assistance. 800.616.0599.

Find your SEA FOX BOAT CO boat cover below: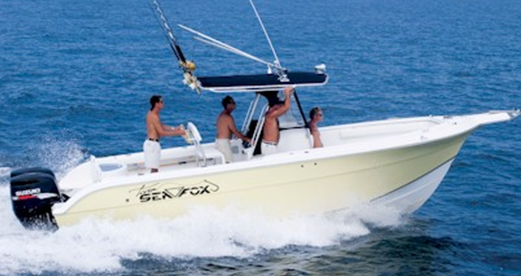 ABOUT SEA FOX BOAT CO
Based in South Carolina, Sea Fox Boat Company assembles a range of center console, dual console and walk around watercraft. Vessels suitable for pleasure cruises and even watersports, the Sea Fox boating line is ideal for serious anglers on freshwater as well as saltwater. Standing behind the quality of their products, Sea Fox vessels is committed in providing a lifetime limited hull warranty.
SEA FOX BOAT CO FACTS
Nearly 20 years ago, Sea Fox Boat Company began with a clear governing philosophy at heart: to develop and build quality hand-crafted saltwater boats that are durable, dependable and affordable. While a whole lot has changed in the materials and the methods of building boats during the past two decades, Sea Fox remains committed with a passion and a purpose to perfecting the ability to offer our customers the finest boats for the fairest price.
Popular Sea Fox Boat Co Boat Models:
195 BAY FISHER
196 CENTER CONSOLE
197 CENTER CONSOLE
199 CENTER CONSOLE
199 COMMANDER/CC
20 CUDDY FISH SPORT
20 DUAL CONSOLE SPORT
200 FLATS FOX
200 VIPER /CC
200 VIPER/CC
200 XT PRO
201 DECK
204 CUDDY FISH
205 BAY FISHER
205 DUAL CONSOLE
206 CENTER CONSOLE
206 DUAL CONSOLE
209 COMMANDER/CC
21 BAY FISHER SPORT
21 CENTER CONSOLE SPORT
16 CENTER CONSOLE SPORT
160 CENTER CONSOLE
160 FLATS FOX
17 CENTER CONSOLE SPORT
172 CENTER CONSOLE
18 BAY FISHER SPORT
18 DUAL CONSOLE SPORT
180 FLATS FOX
180 VIPER/CC
180 XT PRO
181
181 DECK
182 BAY FISHER
185 BAY FISHER
185 DUAL CONSOLE
186 DUAL CONSOLE
187 CENTER CONSOLE
19 BAY FISHER SPORT
19 CENTER CONSOLE SPORT
192 CENTER CONSOLE
21 WALK AROUND SPORT
210 CENTER CONSOLE
210 WALK AROUND
211 DECK BOAT
212 DECK BOAT
215 BAY FISHER
216 CENTER CONSOLE
216 DUAL CONSOLE
216 TRAVELER/DL
216 VOYAGER/WA
216 WALK AROUND
217 CENTER CONSOLE
220 VIPER /CC
220 VIPER/CC
220 XT PRO
221 DECK
225 BAY FISHER
226 CENTER CONSOLE
226 COMMANDER/CC
226 TRAVELER/DL