SEAT HUNT BOAT COVERS FROM NATIONAL BOAT COVERS
National Boat Covers offers the widest variety of high-quality boat covers for Sea Hunt Boats. Choose the perfect fit boat cover for your exact model and size Sea Hunt Boat using our drop down selector menu. Our boat covers are made with waterproof heavy-duty marine grade fabrics such as Sunbrella, Sunflair, and Marinex. These are the best semi-custom fit covers on the market today.
Call our USA based cover experts for assistance. 800.616.0599.

Find your SEA HUNT boat cover below: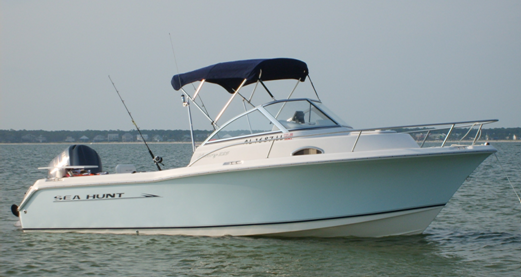 ABOUT SEA HUNT BOATS
Founded in 1995, Sea Hunt has grown from a small shop in South Carolina; Sea Hunt now operates from a 170,000 square foot facility. Along with the expansion of Sea Hunt's business, the company's boat line-up has sprawled from center console fishing boats to include skiff and walkaround models. Still offering the best solutions for fishing, a hefty amount of standard and optional features caters the Sea Hunt boats to angling.
SEAT HUNT BOAT FACTS
When Father & Son team Vic & Bubba Roof started Sea Hunt Boat Company back in 1995, they had one goal in mind. Build an affordable boat that is best in its class. What started out as a modest one-room shop in a small plant outside of Columbia, South Carolina, has exploded into THE #1 selling boat in the country. Sea Hunt's insatiable desire to lead the industry is widely recognized. Through innovation, design, and customer care, it's no wonder that we have been the #1 selling saltwater boat for the past 12 years. When someone purchases a Sea Hunt, they will have the satisfaction of knowing that they are among the elite. 
Popular Sea Hunt  Boat Models:
ESCAPE 188 LE/DL
ESCAPE 200 LE/DL
ESCAPE 200/DL
ESCAPE 207 LE/DL
ESCAPE 211 LE/DL
ESCAPE 220 LE/DL
ESCAPE 220/DL
ESCAPE 234 LE/DL
ESCAPE 250 LE/DL
GAMEFISH 22/CC
GAMEFISH 24/CC
GAMEFISH 25/CC
GAMEFISH 26/CC
GAMEFISH 27/CC
GAMEFISH 29/CC
NAVIGATOR 19/CC
NAVIGATOR 22/CC
SKIFF 19
SKIFF 21
SKIFF 21 BR
153CC/CC
BX 22 BR/CC
BX 22 PRO/CC
BX 22/CC
BX 24 BR/CC
BX 24 PRO/CC
BX 24/CC
BX-19/CC
BX-21-PRO/CC
BX-21-T/CC
BX-22 PRO/CC
BX-22-PRO/CC
BX-22-T/CC
BX-22/CC
BX-24/CC
EDGE 24/CC
ESCAPE 172/DL
ESCAPE 175/DL
ESCAPE 186 LE/DL
ESCAPE 186/DL
SKIFF 21 SS
TRITON 160/CC
TRITON 172/CC
TRITON 177/CC
TRITON 186/CC
TRITON 188/CC
TRITON 200/CC
TRITON 202/CC
TRITON 207/CC
TRITON 210/CC
TRITON 212/CC
TRITON 220/CC
TRITON 225/CC
TRITON 232/CC
TRITON 240/CC
TRITON 260/CC
TRITON 290/CC
ULTRA 186/CC
ULTRA 196/CC
ULTRA 210/CC