SEA NYMPH BOAT COVERS FROM NATIONAL BOAT COVERS
National Boat Covers offers the widest variety of high-quality boat covers for Sea Nympth Boats. Choose the perfect fit boat cover for your exact model and size Sea Nympth Boat using our drop down selector menu. Our boat covers are made with waterproof heavy-duty marine grade fabrics such as Sunbrella, Sunflair, and Marinex. These are the best semi-custom fit covers on the market today.
Call our USA based cover experts for assistance. 800.616.0599.

Find your SEA NYMPH boat cover below: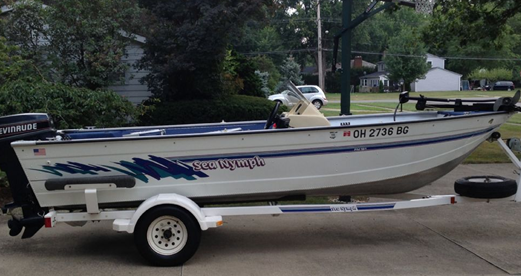 Sea Nymph Photo:
ABOUT SEA NYMPH BOATS
Founded in 1946 as a producer for aluminum fishing boats, Sea Nymph was eventually acquired by Lowe Boats. Sea Nymph ended production as a distinct boat brand in 1999, but the name continued usage for years within the Lowe boat line-up. Through the 1970s into the 1990s, the Sea Nymph name was connected to a wide variety of boat styles including fish and ski as well as cabin cruiser models.
Popular Sea Nymph Boat Models:
1542 15 JON
1542 15 RIVER JON
15420 15 RIVER JON SPEC
1542D 15 JON
1542D 15 RIVER JON SPEC
1542LW 15 RVR JON 2/LVWEL
1542LW 15 RVR JON W/LVWL
15R BACKTROLLER 15
160BT ANGLER
160SC ANGLER
1648 16 BIG JON
1648LW 16 BG JN W/LIVEWL
1648LW 16 BIG JON W/LVWEL
165BT ANGLER
165SC ANGLER
16M MUSKIE 16
16R COHO 16
16RP COHO 16
3V1648LW 16MV BG JN W/LVW
BIG WATER
12R BIG WATER 12
12R BLUE WATER 12
14-M MUSKIE 14
14-M-3 MUSKIE 14
14-M-4 MUSKIE DELUXE 14
14-R BIG WATER 14
14-R SEMI-V FISH
14-XHDJ FLAT
14-XHDJ FLAT FISH
140BT ANGLER
140SC ANGLER
1448 14 BIG JON
1448LW 14 BG JN W/LIVEWL
1448LW 14 BIG JON W/LVWEL
148BT ANGLER
148SC ANGLER
14M3 MUSKIE 14
14M4 MUSKIE DLX 14
14R BIG WATER
14R BIG WATER 14

BIMINI
BIMINI
BIMINI
BT141
BT146
BT162 BACKTROLLER
BT165
BT165 BACKTROLLER
BT165 ED
BT165BL BACKTROLLER
BT165BU BACKTROLLER
BT168
BT175
BT175 BACKTROLLER
BT175 ED
BT175BL BACKTROLLER
BT175BU BACKTROLLER
CC-170 BASS STRIPER
CC-171 BAY STRIPER
CC-191 STRIPER