SEA-DOO/BRP BOAT COVERS FROM NATIONAL BOAT COVERS
National Boat Covers offers the widest variety of high-quality boat covers for Sea-Doo/BRP Boats. Choose the perfect fit boat cover for your exact model and size Sea-Doo/BRP Boat using our drop down selector menu. Our boat covers are made with waterproof heavy-duty marine grade fabrics such as Sunbrella, Sunflair, and Marinex. These are the best semi-custom fit covers on the market today.
Call our USA based cover experts for assistance. 800.616.0599.


Find your SEA-DOO/BRP boat cover below: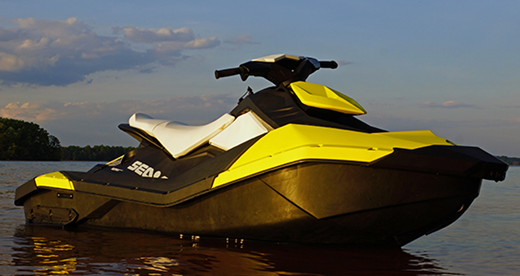 ABOUT SEA-DOO/BRP BOATS
A wholly-owned subsidiary of Bombardier Recreational Products, Sea-Doo is a Canadian marquee known for their personal watercraft. In addition to their PWCs, Sea-Doo also produces various sport and speed boats.
SEA-DOO/BRP FACTS
Today, BRP has partnered with the next generation of wake athletes to develop the most advanced personal watercraft, specifically designed for tow sports, the Sea-Doo WAKE 155, and WAKE PRO 215. This generation includes the Nike wakeskate team riders: Ben Horan, Matt Manzari, Andrew Pastura, Nick Taylor and Silas Thurman. These athletes are on a quest to advance their sport, bringing it to the masses and helping BRP develop the perfect PWC for boarders ranging from beginner to Pro. The team has completed the "DOO IT" series of instructional wakeskate videos that explains how the Sea-Doo WAKE PRO 215 watercraft helps advance the sport.
Popular Sea-Doo/BRP Boat Models:
205 UTOPIA SE W/TWR
210 CHALLENGER
210 CHALLENGER S
210 CHALLENGER SE
210 CHALLENGER SE W/TWR
210 SP
210 WAKE 310
210 WAKE 430
230 CHALLENGER
230 CHALLENGER SE
230 CHALLENGER SP
230 CHALLENGER SE W/TWR
230 CHLNGR SE RTRCT W
230 CHLNGR SE RTRCT WS
230 CHLNGR SP RTRCT WS
230 SP
230 WAKE
230 WAKE 310
230 WAKE 310 RTRACT WS
230 WAKE 430
150 SPEEDSTER
150 SPEEDSTER 155
150 SPEEDSTER 215
150 SPEEDSTER 255
150 SPEEDSTER W/TWR
150 SPEEDSTR 155 W/TWR
150 SPEEDSTR 215 W/TWR
150 SPEEDSTR 255 W/TWR
180 CHALLENGER
180 CHALLENGER SE
180 CHALLENGR SE W/TWR
180 SP
200 SPEEDSTER 310
200 SPEEDSTER 430
200 SPEEDSTER 510
200 SPEEDSTR 310 W/TWR
200 SPEEDSTR 430 W/TWR
200 SPEEDSTR 510 W/TWR
205 UTOPIA
205 UTOPIA SE
230 WAKE 510 RTRACT WS
3D BASE
3D DI
3D PREMIUM
CHALLENGER
CHALLENGER 180
CHALLENGER 180 CS
CHALLENGER 180 W/TWR
CHALLENGER 1800
CHALLENGER 180CS W/TWR
CHALLENGER 2000
CHALLENGER X
EXPLORER
EXPLORER 5820
GS
GS 5621
GS 5626
GS 5644
GS 5847
GSI 5622