SEAJAY BOATS BOAT COVERS
ABOUT SEAJAY BOATS
A Saint Joseph, Missouri-based producer of motorboats founded in the late 1960s, Steve Schomberg would pick up his father Cliff's passion for the marine industry with Seajay Boats. Building fiberglass runabout watercraft from 14 to 18 feet in length, Sea Jay Boats are pleasure vessels powered by outboard and stern drive marine motors. Seajay Boats would acquire the assets of Speedliner in the late 1970s and would continue constructing vessels under the new name.

Find your SEAJAY BOATS boat cover below: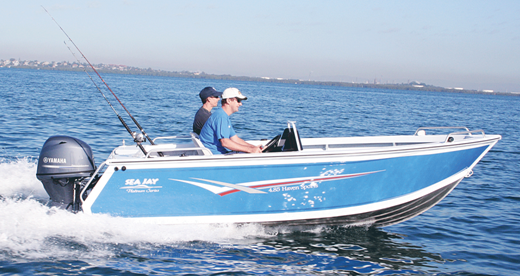 Popular Seajay Boats Boat Models:
| | |
| --- | --- |
| SATURN FISHER F15 | APOLLO V-631 |
| SATURN S-15 | DDT |
| SEA SAINT | DDT CJP-174 |
| SEA SAINT CJP-176 | GOLDFISHER |
| SST TUNNEL | GOLDFISHER CJP-161/2 |
| SST TUNNEL CJP-177 | JUPITER V-83 |
| SUNSTAR | JUPITER V-831 |
| SUNSTAR I | LIL JOE |
| SUNSTAR I CJP-171 | LIL JOE CJP-151 |
| SUNSTAR II | MARINER T-16 |
| SUNSTAR II CJP-172 | MARINER T1-16 |
| SUNSTAR III | MARINER TI-16 |
| SUNSTAR III CJP-173 | SATURN F-15 |
| TITAN V-63 | SATURN FISHER F-15 |
Seajay Boats Facts:
Here at Sea Jay Aluminium Boats we think of each person who purchases one of our Fishing Boats as not just a customer, but someone who has joined our family. Being a family owned and operated company for the last 21years, the name "Sea Jay Aluminium Boats" have become renowned for strength, quality workmanship and customization. Whether it is from our Sea Jay Range or Plate Xtreme Range, here at Sea Jay we can provide you with a model to suit your boating needs. Please take your time browsing through our extensive Website and "WELCOME" to the Sea Jay Aluminium Boats Family.