SHALLOW STALKER BOATS BOAT COVERS
ABOUT SHALLOW STALKER BOATS
A Los Fresnos, Texas marine manufacturer since 2005, Shallow Stalker Boats has been constructing fiberglass vessels for shallow water travel. Arranged with center console cockpits, the watercraft produced by Shallow Stalker Boats range in hull sizes from 17 to 24 feet. Every product manufactured by Shallow Stalker Boats is hand built creations that only leaves their factory after a 22-point quality inspection.

Find your SHALLOW STALKER BOATS boat cover below: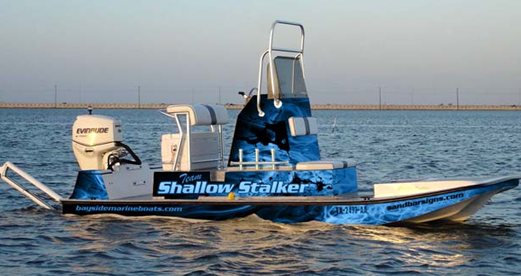 Popular Shallow Stalker Boats Boat Models:
17 RC/CC
17 RCW/CC
17 W/CC
17/CC
20 PRO/CC
20 RC/CC
20/CC
CAT 204 DB RC/CC
CAT 204 DB/CC
CAT 204 PRO/CC
CAT 204 RC/CC
CAT 204/CC
CAT 240 DB RC/CC
CAT 240 DB/CC
CAT 240 PRO/CC
CAT 240 RC/CC
CAT 240 RPRO/CC
CAT 240/CC
CAT PRO/CC
V20 PRO/CC
V20 RC/CC
V20/CC
Shallow Stalker Boats Facts:
Bayside Marine Inc. is well known for its fine shallow water boats and the largest selection of parts and accessories in South Texas! Based in Port Isabel, we have intimate knowlege of what shallow water fisherman want and need to land their next catch. Our well stocked parts department and first-class Service department are ready for action to keep you out of the shop and in the water! From minor tune-ups and routine maintenance to major overhauls, our knowledgeable, certified mechanics can get you up and running quickly.