SILVER STAR PONTOONS BOAT COVERS
ABOUT SILVER STAR PONTOONS
A sister brand Aloha Pontoon Boats, the Silver Star Pontoons line-up was produced under Waco Manufacturing based in North Little Rock, Arkansas. Consisting of a vessel range between 18 and 29 feet in length, Silver Star Pontoons are matched to fishing or weekend parties on the water. Produced from 1997 until 2002, Silver Star Pontoons was discontinued in favor for the Aloha brand.

Find your SILVER STAR PONTOONS boat cover below: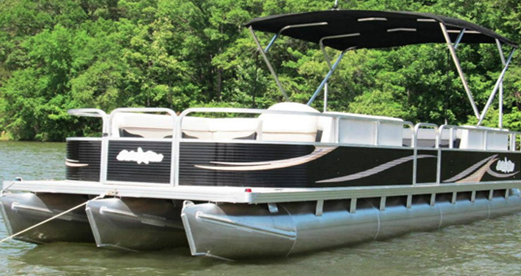 Popular Silver Star Pontoons Boat Models:
180 FAMILY
180 FISH-N-FOWL
180 FISH-N-PARTY
180 FISH-N-PARTY 19" PONT
180 FISH-N-PARTY 23" PONT
200 CRUISER
200 FISH N' CRUISE
200 FISH-N-PARTY
210 FAMILY
210 FISH-N-PARTY
240 CRUISER
250
250 26" PONTOONS
250 SUNDECK
250 SUNDECK 26" PONTOONS
290 SUNDECK
290 SUNDECK 26" PONTOONS
Silver Star Pontoons Facts:
Silver Star Pontoon means unsurpassed quality at an affordable price Silver Star's innovative performance packages have revolutionized the pontoon's operational capabilities, changing the way you spend time on the water. Sliver Star delivers fast pontoon boats with precision, effortless handling and remarkable holeshot backed with unrelenting power. Silver Pontoon has a full line-up of new pontoon boats that are reliable, versatile and fun! We have something just for you whether you're taking the kids tubing, relaxing in the outdoors or catching that prize fish. No matter your budget or your on-water lifestyle, we deliver. Each fully customizable pontoon model offers plenty of versatility and power to make your time on the water something special.