SILVER STREAK BOATS BOAT COVERS
ABOUT SILVER STREAK BOATS
A marine company founded in 1987, British Columbia, Canada's Silver Streak Boats is recognized as a quality name in aluminum-hulled vessels. Building a broad range of watercrafts including jon boats, center console, cabin cruiser, runabout and even landing craft, Silver Streak Boats is equipped to serve a substantial customer base. Silver Streak Boats has been imported to the United States since 2002 as custom-built aluminum vessels.

Find your SILVER STREAK BOATS boat cover below: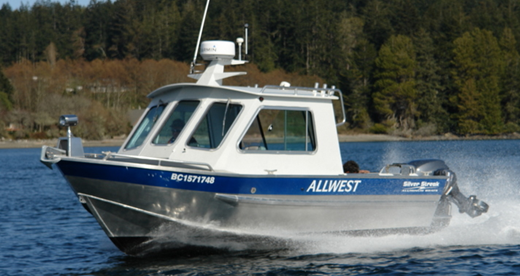 Popular Silver Streak Boats Boat Models:
| | |
| --- | --- |
| LANDING CRFT 16 DEGREE | CABIN |
| LANDING CRFT 18 DEGREE | CONSOLE |
| OFFSHORE | CONSOLE 10 DEGREE |
| OPEN | CONSOLE 16 DEGREE |
| OPEN CHALLENGER | CONSOLE 18 DEGREE |
| OPEN REVERSE CHINE | CUDDY |
| PILOT | CUDDY CABIN |
| PILOT HOUSE | CUDDY OPEN HARD TOP |
| PILOTHOUSE | DRIFT BOAT |
| RUNABOUT | JET BOAT |
| RUNABOUT HARD TOP | LANDING CRAFT |
| RUNABOUT HARDTOP | LANDING CRAFT 16 DEGREE |
| SWIFTSURE CUDDY | LANDING CRAFT 18 DEGREE |
Silver Streak Boats Facts:
Since 1987 we have been proudly building Canada's Premier All Welded Aluminum Boat. From concept to completion all of our boats are built by hand in Sooke, BC. Sooke is on the Southwest Coast of Vancouver Island and needless to say it is the ultimate testing ground for all of our vessels. Whether you are looking for a pleasure craft, commercial transport or work boat, research boat, rescue boat, oil spill clean up, oil spill response boat or something else all together - we build it all. If you would like package pricing once you are finished browsing our catalogue, please contact us with your requirements and we will glady send you a personalized quote for your potential new boat.