SMOKER-CRAFT INC BOAT COVERS FROM NATIONAL BOAT COVERS
National Boat Covers offers the widest variety of high-quality boat covers for Smoker-Craft Inc. Boats. Choose the perfect fit boat cover for your exact model and size Smoker-Craft Inc boat using our drop down selector menu. Our boat covers are made with waterproof heavy-duty marine grade fabrics such as Sunbrella, Sunflair, and Marinex. These are the best semi-custom fit covers on the market today. Call our USA based cover experts for assistance. 800.616.0599.

Find your SMOKER-CRAFT INC boat cover below: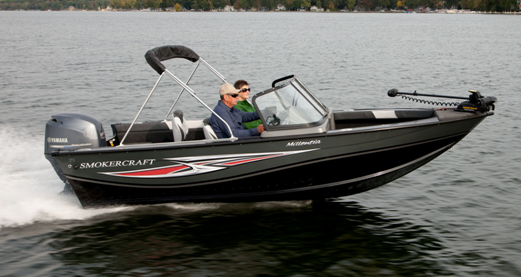 ABOUT SMOKER-CRAFT INC BOATS
Building fishing, utility and jon boats, Smoker-Craft has been available to anglers since 1961. A family-owned business, the product range of Smoker-Craft allows suitability for various budgets. Pledging in their mission statement to be "Best value on the water," Smoker-Craft fishing boats provide design and performance for the demands of recreational anglers.
SMOKER-CRAFT INC FACTS
For five generations and counting, the Smoker Craft family has been dedicated to sharing the wonder of boating by creating the finest watercraft that money can buy. Smoker Craft can trace its roots in the boating industry all the way back to 1921, when the Smoker Lumber Company, as it was then called, was a world leader in the production of oars and paddles. The company also built many of the wooden components used in boats produced by several different brands. While the company's designs have changed and evolved over the years, what has remained constant is the painstaking care and meticulous attention to detail that goes into crafting every single boat.
Popular Smoker-Craft Inc Boat Models:
RESORTER
SALMON
ALANTE
SUPER
VOYAGER
LODGE
RESORTER
STEALTH
STINGER
MILLENTIA
PRO
12 ALASKAN
12 ALASKAN DLX
12 ALASKAN TL
12 ALASKAN TS
12 CANADIAN
12 SPORTSMAN
12 ZEPHYR
1232 JON
13 ALASKAN
13 ALASKAN DLX
13 ALASKAN TL SS DLX
13 ALASKAN TS SS DLX
13AFS ALASKAN
13SAS ALASKAN SPLIT SEAT
14 ALASKAN
14 ALASKAN SPLIT
14 BIG FISHERMAN
14 CANADIAN
14 CLASSIC FISHERMAN S/C
14 CLASSIC FSHRMN TILLER
REGATTA
SPORTSMAN
ULTIMA
V
V180
V186
V196
V210
VECTRA