ABOUT SOUTH BAY PONTOONS
Part of the Forest River Incorporated's marine division, South Bay Pontoons are multi-purpose recreational platforms. Ranging from 16 to 28 feet in length, the vessels produced by South Bay Pontoons can be suited for fishing, partying or simple cruises on the water. Incorporating many modern technologies, South Bay Pontoons provide desirable properties such as excellent fuel economy and a tight turning radius. South Bay Pontoons vessels are built to the standards set out by the NMMA.

Find your SOUTH BAY PONTOONS boat cover below: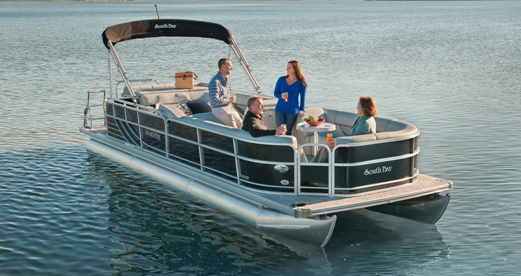 South Bay Pontoons Facts:
As a division of Forest River, Inc., a wholly owned subsidiary of Berkshire Hathaway, Forest River Marine offers the financial stability afforded to their customers that no other recreational products company in the industry can. At Forest River we take great pride in building products that continually exceed our customers' expectations. Combining superior construction, quality components and rich comfortable furnishings have made our products the best in the industry. Forest River Marine will remain committed to continual product improvement as a means to provide the South Bay owners with a lifetime of enjoyment on the water.
Popular South Bay Pontoons Boat Models:
522FC
522FC TRIPLE TUBE
522FC TRIPLE TUBE-I/O
522FCR
522FCR TRIPLE TUBE
522RS
522RS TRIPLE TUBE
522SL
522SL TRIPLE TUBE
522SLX
522SLX TRIPLE TUBE
524CLR
524CLR TRIPLE TUBE
524CPTR
524CPTR TRIPLE TUBE
524CR
524CR TRIPLE TUBE
524E
524E TRIPLE TUBE
524FCR
422F A
422FC
422FC A
422FCR
424CR
424FC
424FCR
516C
518C
518CR
520CR
520CR TRIPLE TUBE
520CR TRIPLE TUBE-I/O
520F
520F TRIPLE TUBE
520FC
520FC TRIPLE TUBE
520FC TRIPLE TUBE-I/O
520FCR
520FCR TRIPLE TUBE
720CR DLX TRIPLE TUBE
720CR TRIPLE TUBE
720F
720FC
722CLR
722CLR DLX
722CLR DLX TRIPLE TUBE
722CLR TRIPLE TUBE
722CLR TRIPLE TUBE-I/O
722CPTR
722CPTR DLX
722CPTR DLX TRIPLE TUBE
722CPTR TRIPLE TUBE
722CPTR TRIPLE TUBE-I/O
722CR
722CR DLX
722CR DLX TRIPLE TUBE
722CR TRIPLE TUBE
722CR TRIPLE TUBE-I/O
722CR TT