ABOUT SPORTCRAFT BOATS
Starting with the production of recreational watercraft in 1958, Sportcraft Boats offers few compromises in presenting fishing boats ideal for weekend fishing outings. Bow rider and walkaround models are boat types commonly featuring the Sportcraft name. Independently owned and operated since the company's foundation, industry competition wore on Sportcraft Boats. Production for the boat company ended after the 2003 model year.

Find your SPORTCRAFT BOATS boat cover below: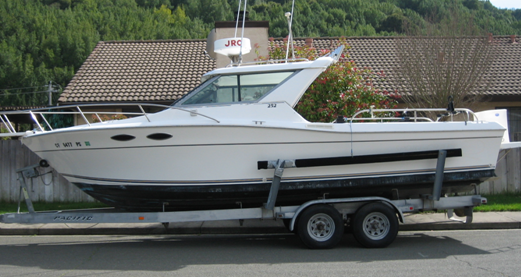 Sportcraft Boats Facts:
Sportcraft Boats is a family marine business that started in Morrinsville in 1989 and has grown to have two stores, one in Thames Street Morrinsville and the other in 19 Hewletts Road Mount Maunganui. We specialize in the sales and servicing of trailer boats and outboard motors, both new and used, with fully certified technicians and marine chandlery and accessories.
Popular Sportcraft Boats  Boat Models:
170 ADVENTURER
170 ADVENTURER SPECIAL
170 C GULL
170 FISH N SKI
170 FISHERMAN
172 FISHERMAN
180 CC
180 FM C/C
180 FM CC
180 FM CENTER CONSOLE
180 SPORTSMAN
180 SPORTSMAN BR
180 SPORTSMAN BR LTD
180 SPORTSMAN DTD
185 SKI KING
1850 AVANZA
190 C EAGLE
190 C EAGLE/FISHERMAN
190 C KING
190 CAPRICE
1500 SPRINT
1500 SPRINT BR
1500 SPRINT CB
160 C GULL
160 CC
160 FISHERMAN
160 FISHMASTER
160 FM C/C
160 FM CC
160 FM CENTER CONSOLE
160 SKI KING
160 SKI KING/FISH N SKI
160 SPORTSMAN BR
160 SPORTSMAN BR SPEC
160 SPORTSMAN BR SPECIAL
1600 FISHMASTER
1600 SPRINT BR
1600 SPRINT CB
1600 SPRINT/LINER
170
190 SPORTSMAN BR
190 SPORTSMAN CB
1900 AVANZA BR
1900 SPRINT BR
1900 SPRINT BR/LINER
1900 SPRINT CB
1900 SPRINT CC
1900 SPRINT CC/LINER
200 FISHERMAN
200 FISHERMAN CC
200 FISHERMAN CTR CONSOLE
200 FISHMASTER
202 FISHERMAN
202 FISHMASTER
202 FISHMASTER WAC
202 FISHMASTER WT
202 FISMASTER
202 FM C/C
202 FM CC
202 FM CENTER CONSOLE