STABICRAFT BOAT COVERS
ABOUT STABICRAFT BOATS
Importing aluminum powerboats produced in New Zealand, Stabicraft have had a presence in the North American marketplace since 1988. Stabicraft vessels range from 9 to 28 feet is catered for both recreational and commercial applications. Assembled for optimum durability and rough water handling around a pontoon-type hull, Stabicraft are advertised as virtually unsinkable boats employing positive buoyancy.

Find your STABICRAFT boat cover below: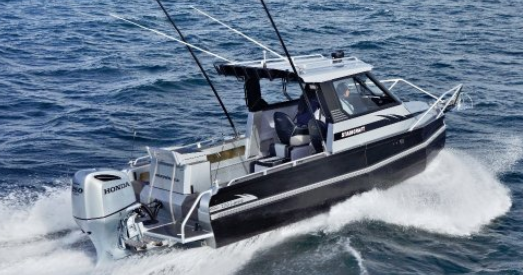 Popular Stabicraft Boat Models:
2050 SUPERCAB
2250 SUPERCAB
259 DINGHY
349 DINGHY
359 FISH'R
389 FISH'R
389 FRONTIER
389 MATT WATSON
529 ALASKAN FRONTIER
529 W FISH'R
589 ALASKAN FRONTIER
759 GIII SUPERCAB
829 GIII SUPERCAB
859 PILOTHOUSE
Stabicraft Facts:
At Stabicraft Marine, Adventure with Confidence is more than just a motto - it's a promise. Whether it's for work or play, we get boaties there - and back again - safely. Here you will learn more about our serious, safe and stable boats. Serious - Stabicraft Marine pioneered Positive Buoyancy™ boats, built to last far beyond whatever you are likely to ask of them. Safe - Virtually unsinkable and rugged, our distinctive designs make us a global leader in the marine industry. Stable - The unique and highly stable hull design allows greater payloads and tougher seas to be navigated. With a Stabicraft boat you can always Adventure with Confidence.