STARCRAFT CO BOAT COVERS FROM NATIONAL BOAT COVERS
National Boat Covers offers the widest variety of high-quality boat covers for Starcraft Co. Boats. Choose the perfect fit boat cover for your exact model and size Starcraft Co. Boats using our drop down selector menu. Our boat covers are made with waterproof heavy-duty Marine grade fabrics such as Sunbrella, Sunflair and Marinex. These are the best semi-custom fit covers on the market today. Call our USA based cover experts for assistance. 800.616.0599.

Find your STARCRAFT CO boat cover below: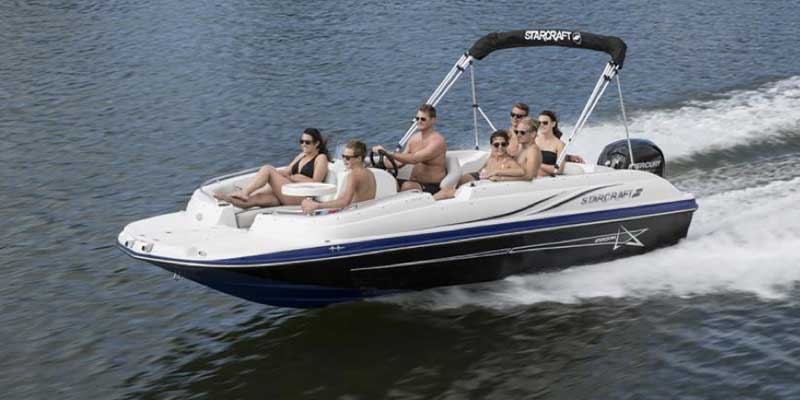 ABOUT STARCRAFT CO BOATS
With a long-running history in boat construction that reaches back to 1903, Starcraft is experienced in building boats with aluminum and fiberglass hulls. Starcraft produces a wide range of watercraft, offering a diverse assortment of fishing, runabouts, and pontoon boats. 
STARCRAFT CO FACTS
Still owned and operated by the same family that started it all more than a century ago, Starcraft has led the recreational boating industry with continuous innovation and numerous world firsts. In 1903, when everyone else was building boats from wood, they built theirs out of aluminum, which was lighter, tougher, and completely maintenance-free. In 1958, they innovated the boat manufacturing industry further with the launch of the first fiberglass models. In 1965, they introduced the world's first high performance aluminum fishing boat with a Deep-V hull. Starcraft Co. were pioneers in developing high performance pontoon boats, and set the standard with revolutionary HMX tubes. 
Popular Starcraft Co Boat Models:
1444 MVX
1448
1448 L
1448 LW
1448 LWL
1448 LWS
1448 S
15 ALASKAN TL SS DLX
15 ALASKAN TS DLX
15 ALASKAN TS SS DLX
1542 MV
1550 MV
1550 MV XL
1550 MVX
15615
16 CAMP
16 SF
16 SF DLX
160 FREEDOM SC
160 FREEDOM TILLER
1032
12 ALASKAN TL
12 ALASKAN TS
12 SEA LITE
1232
13 ALASKAN TL SS DLX
13 ALASKAN TS DLX
13 ALASKAN TS SS DLX
14 SEA LITE
14 SF
14 SF DLX
14 SF SS
140 PRO TROLLER
1432
1436
1436 LW
1436 LWS
1436 S
1444 MV
1444 MV XS
1600 LIMITED
161 FD
1644 MV
1644 MV XL
1644 MVX
1648
1648 L
1648 LW
1648 LWL
1648 LWS
1648 S
1650 MV
1650 MV DLX
168 PRO TROLLER
1686 ROGUE
170 C WALLEYE
170 DC WALLEYE
170 T
1700
1700 BOWRIDER