ABOUT SUPRA BOATS
Supplying the market with high performance watercraft since 1980, Supra boat brand features inboard-engined watercraft purposefully suited for wakeboarding and waterskiing, the products within the Supra company is the choice for professional competitions. Featuring a woodless fiberglass hull, Supra boats are also constructed with stainless steel hardware.

Find your SUPRA boat cover below: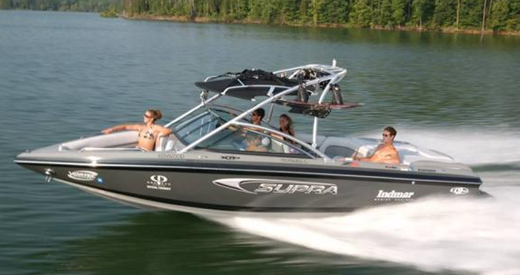 Supra Facts:
Make no mistake about it, there's an athlete in every Supra boat. From the Team Supra riders who dominate competitive wakeboarding at the highest levels, to the everyday Supra owners—from six to sixty years old—who simply want to show off their talent with every ride. With their innovative styling, luxurious interiors, superior construction and unsurpassed wake performance, Supra boats are engineered to unleash everyone's inner athlete. That's why Supra – and Supra riders – have been at the top of the inboard industry since 1980. Always strive for a personal best. Always reach new heights. Always soar to new levels. Leave a wake wherever you go. That's the Supra spirit.
Popular Supra Boat Models:
LAUNCH 21V/SK
LAUNCH 22 SSV/SK
LAUNCH 22V LIQ ED/SK
LAUNCH 22V/SK
LAUNCH 24 SSV/SK
LAUNCH 242/SK
LAUNCH 24V BRO ED/SK
LAUNCH 24V/SK
LAUNCH LTS/SK
LAUNCH SSV GRAVITY/SK
LAUNCH-LTS/SK
LAUNCH-SL/SK
LAUNCH-SS/SK
LAUNCH-SSV/SK
LAUNCH/SK
LEGACY/SK
LNCH 20 SSV LTD PKG/SK
LNCH 22 SSV GRAVITY/SK
LNCH 22 SSV LTD PKG/SK
LNCH 24 SSV GRAVITY/SK
ALLEGRA
BEAST
BRAVURA
BRAVURA CLOSED BOW
BRAVURA SKIER CLOSE BOW
COMP
COMP 20/SK
COMP CLASSIC
COMP CLOSED BOW
COMP LTS/SK
COMP STS
COMP TS6M
COMP/SK
CONBRIO
IMPULSE
LA BRISA
LA BRISA CLOSED BOW
LA BRISA OPEN BOW
LAUNCH 20 LTD PKG/SK
LAUNCH 20 SSV/SK
MARAUDER
MARAUDER CLOSED BOW
MARAUDER SKIER
MARAUDER SKIER C/BOW
MARIAH
MARIAH OPEN BOW
MARIAH SKIER OPEN BOW
PIRATA
PIRATA CLOSED BOW
PIRATA SKIER CLOSE BOW
PIRATA SKIER CLOSED BOW
RIDER
SA350
SA450
SA550
SALTARE
SALTARE OPEN BOW
SALTARE SKIER OPEN BOW
SANTERA/SK
SC350