ABOUT SYLVAN IND BOATS
Entering existence as a pontoon and houseboat business, Sylvan Marine is focused on providing smooth and controlled boats for traveling over waters. While exiting houseboat production, the Indiana-based boat manufacturer Sylvan maintained the construction of pontoon boats as well as added fishing vessels to their product portfolio. Sylvan Marine boats incorporate carefully engineered hull designs to maximize engine output.

Find your SYLVAN IND boat cover below: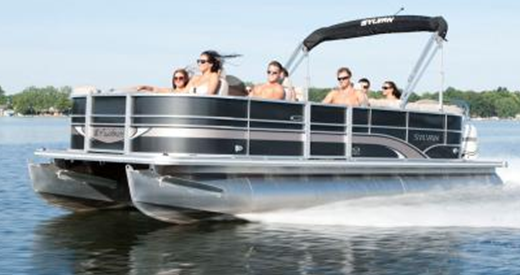 Sylvan Ind Facts:
Sylvan Marine traces its history back to the late 1940s, when it was founded as a pontoon and houseboat manufacturer near Sylvan Lake in Wolcottville, Indiana. The company was purchased in the early 1970s by Harold Schrock, whose father founded Starcraft back in 1903. Today, the Sylvan brand is part of the Smoker Craft Family of Products and continues to be known for high quality, innovative pontoons and aluminum fishing boats.
Popular Sylvan Ind Boat Models:
14 SUPER SNAPPER
14 YUKON
14 YUKON SPLIT SEAT
140 SPORT TROLLER
1400 NAVIGATOR
1400 NAVIGATOR SC
1400 SEA BREEZE
1400 SEA SNAPPER
1400 SPORT TROLLER
1400 SUPER SNAPPER
1432 JON
1436 JON
1436 JON LW
1436 JON W/LIVEWELL
144 CRAPPIE
1444 JON
1444 JON SPLIT SEAT
1444 MODIFIED V JON
1444 MV JON
1444 MVX JON
12 ALASKAN TL
12 ALASKAN TS
12 FISHERMAN ADVAN
12 FISHERMAN ADVANTAGE
12 SEA BREEZE
12 YUKON
1200 ALASKAN
1200 ALASKAN DLX
1200 FISH ADVANTAGE
1200 SEA BREEZE
1232 JON
13 ALASKAN DLX
13 ALASKAN TL SS DLX
13 ALASKAN TS SS DLX
13 SCOUT
13 YUKON
1300 ALASKAN DLX
14 BLUE FISH S/C
14 CLASSIC FISHERMAN
14 CLASSIC FISHERMAN S/C
15 STRIKER
15 STRIKER L/S
15 YUKON
15 YUKON SPLIT SEAT
150 CRAPPIE
1500 ALASKAN
1500 ALASKAN DLX
1500 DECK BOAT
1500 EXPLORER
1500 EXPLORER SC
1500 EXPLORER TILLER
1500 NAVIGATOR
1500 NAVIGATOR SC
1500 SPACE SHIP
1500 SPACE SHIP GLX
1500 STRIKER
1544 CRAPPIE
1550 JON
1550 JON AW
1550 JON SPLIT SEAT