ABOUT THOMPSON BOAT CO
Thompson Boat Company, a long-running pleasure boat builder in the United States, began building boats in 1912. During the 1920s, Thompson Boat Company was a world leader in the production of outboard motorboats. Thompson Boat Company is also a pioneer in adapting inboard/outboard motor technology in the late 1950s. By the time the marine manufacturer switched from wood to entirely fiberglass boats by the 1970s, Thompson Boat Company folded.

Find your THOMPSON BOAT CO boat cover below: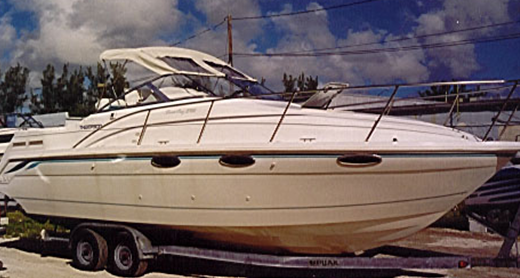 Thompson Boat Co Facts:
The family came from Denmark and settled in Racine, Wisconsin. Around 1899, they moved to undeveloped farmland near Peshtigo. Thompson Bros. Boat Mfg. Co. was incorporated in 1912 and by that time, six Thompson brothers were involved: Peter, Chris, Edward, Theodore, Adolh (Tom), and Richard. Their sister Hanna (Johanna) was office manager. A new factory complex was built within the city limits of Peshtigo in 1912 and the operation was moved from the cramped quarters at the Thompson farm, a few miles north of town. Thompson soon became the largest builder of outboard boats in the world.
Popular Thompson Boat Co Boat Models:
CARRARA 255
CARRARA 2600
CATALINA
CENTER CONSOLE 1800
CRUISER
CUTLASS 165BR
CUTLASS 170
CUTLASS 170 BR
CUTLASS 170BR
CUTLASS 175BR
CUTLASS 180
CUTLASS 180 BR
CUTLASS 180BR
CUTLASS 185
CUTLASS 185 CLOSED BOW
CUTLASS 185BR
CUTLASS 190
CUTLASS 190 BR
CUTLASS 190 CB
CUTLASS 190BR
ADVENTURER 240A HT
ADVENTURER 252A
ADVENTURER 288
ADVENTURER 2900
CALAE
CALAE 175
CALAE 18 BR
CALAE 1800
CALAE 1800 BOW RIDER
CALAE 195
CALAE 2000
CALAE 2000 BOW RIDER
CALAE 2100
CALAE 2100 BOW RIDER
CALAE 22 BR
CALAE 2600 BOW RIDER
CARRARA 198
CARRARA 200
CARRARA 2000
CARRARA 205
CUTLASS BR 190
DAYTONA 225
DAYTONA 2300
DAYTONA 245
DAYTONA 250
DAYTONA 260
DAYTONA 260 SPL
DAYTONA 270
DAYTONA 275
DAYTONA 290
DAYTONA 300
DAYTONA 300 SPL
DAYTONA 310
DAYTONA SPL 225
DAYTONA SPL 250
DAYTONA SPL 260
DECK BOAT 2200
DEL RAY
EXECUTIVE
EXPLORER