TIARA BOAT COVERS
ABOUT TIARA BOATS
Created in 1976 as the powerboat arm of S2 Yachts Incorporated, the Tiara division was greeted with immediate fanfare. Tiara Yachts initially manufactured all of their products in a Holland, Michigan plant, the company took over a former Outboard Marine Corporation factory in 1998 allowing larger boats to be available. Building vessels from 27 to 58 feet in length for sport fishing and cruising, Tiara Yachts Incorporated boats are constructed with a 'Commitment to Excellence' for serving the marine customer.

Find your TIARA boat cover below: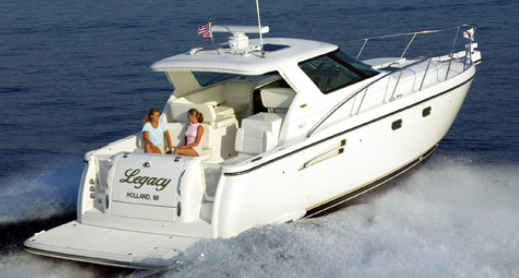 Popular Tiara Boat Models:
GRANDE
OVERNITER
PURSUIT
RIVIERA
TOUCHE
PURSUIT
PURSUIT
PURSUIT
PURSUIT
PURSUIT
PURSUIT
PURSUIT
PURSUIT
PURSUIT
PURSUIT
PURSUIT
Tiara Facts:
Today, S2 Yachts, distinguished builders of Tiara and Pursuit branded products, is one of the few privately-owned production boat building companies in the world, and continues to succeed with its uncompromising quality, cutting-edge design, innovation, customer service, and pride from its employees and owners.