TIGÉ BOAT COVERS FROM NATIONAL BOAT COVERS
National Boat Covers offers the widest variety of high-quality boat covers for Tigé Boats. Choose the perfect fit boat cover for your exact model and size Tigé Boats using our drop down selector menu. Our boat covers are made with waterproof heavy-duty Marine grade fabrics such as Sunbrella, Sunflair and Marinex. These are the best semi-custom fit covers on the market today. Call our USA based cover experts for assistance. 800.616.0599.

Find your TIGÉ BOATS INC boat cover below: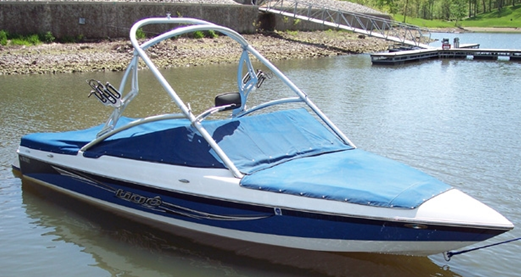 ABOUT TIGÉ BOATS INC
Founded by Charles Pigeon in 1991, Tigé Boats watercrafts are constructed with high performance activities in mind. Fast as well as agile, family waterskiing and wakeboarding outings can be partaken with the cutting edge-designed Tigé powerboats. One of the unique features located onboard Tigé products is a patented trimmable hull. The Tigé name was inspired from a childhood nickname given to Charles Pigeon.
TIGÉ BOATS INC FACTS
Tigé are a family of master craftsmen who have come from around the world, attracted by the rare and complete freedom to innovate. Over the years, listening intently to customers' needs and the company's own design instincts has resulted in advancements that leave others drooling at the dock. The Tigé Touch interactive control panel,  the patented ConvexV Hull, TAPS2 wake technology and the wakesurf wave enhancement Convex VX are just some of the revolutionary features that make Tigé unlike anything else on the water.
POPULAR TIGÉ BOATS INC BOAT MODELS
2200I/SK
2200V/SK
22I TYPE R/SK
22I/SK
22V LTD/SK
22V RIDERS EDITION/SK
22V/SK
22VE/SK
2300V LIMITED/SK
2300V LTD/SK
230V LIMITED/SK
23V RIDERS EDITION/SK
24V LTD/SK
24V RIDERS EDITION/SK
24V/SK
24VE/SK
PRE 2000
PRE 2000 WT
PRE 2000 WT/SK
PRE 2002
2000 BF COMP
2000 SLM
2000 SLM COMP
2000I/SK
2000V LTD/SK
2002 FSLM
2002I/SK
2050I/SK
20CI/SK
20I/SK
20V LTD/SK
20V RIDERS EDITION/SK
20V/SK
2100I/SK
2100V LIMITED/SK
2100V LTD/SK
21I RIDERS EDITION/SK
21I TYPE R/SK
21I/SK
21V FOX RACING EDITION/SK
PRE 2002 WT/SK
PRE 2050 WT
PRE 2050 WT/SK
PRE 2100
PRE 2100 WT
PRE 2100 WT/SK
PRE 2150 WT
PRE 2200
PRE 2200 WT
PRE 2200I WT/SK
PRE 2200V WT/SK
R20/SK
RZ2 PLATINUM/SK
RZ2/SK
RZ4 PLATINUM/SK
RZ4/SK
RZR/SK
SWITCH CI/SK
SWITCH I/SK
SWITCH V/SK