TRACKER MARINE BOAT COVERS FROM NATIONAL BOAT COVERS
National Boat Covers offers the widest variety of high-quality boat covers for Tracker Marine Boats. Choose the perfect fit boat cover for your exact model and size Tracker Marine Boat using our drop down selector menu. Our boat covers are made with waterproof heavy-duty Marine grade fabrics such as Sunbrella, Sunflair and Marinex. These are the best semi-custom fit covers on the market today.
Call our USA based cover experts for assistance. 800.616.0599

Find your TRACKER MARINE boat cover below: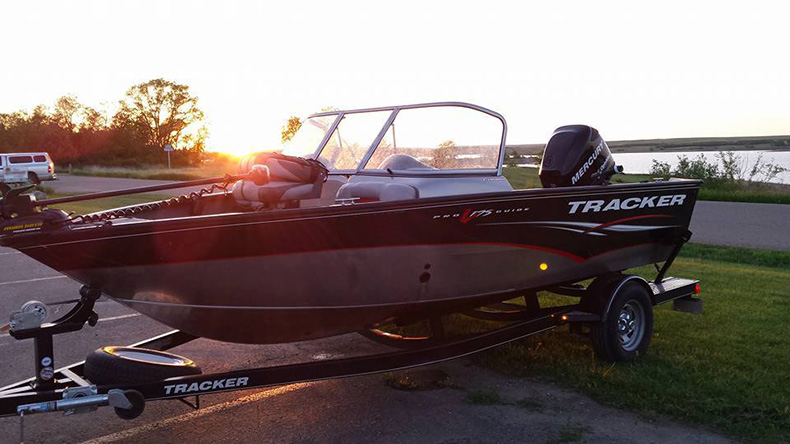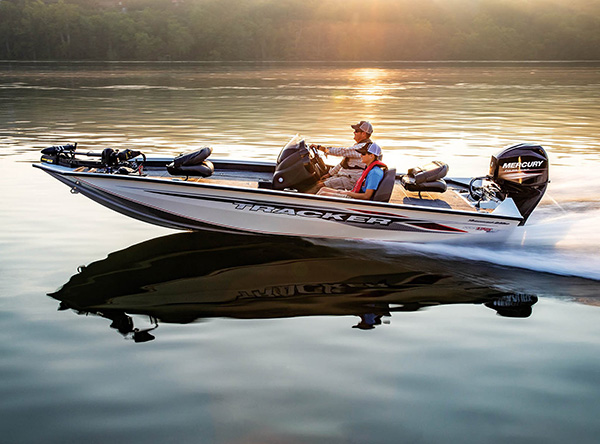 ABOUT TRACKER MARINE BOATS
Devoted to building vessels fitting every type of angler, Tracker Marine consists of four boat divisions. Tracker boats and Nitro performance bass boats divisions specialize in serious sportfishing. Supplying a pontoon boat choice, the Sun Tracker brand is ideal for family parties on the water. The final division of the Tracker Marine company is a ski and fish boat brand called Tahoe.
TRACKER MARINE FACTS
The aluminum boat building capital of the world. It's fitting that the world's most popular aluminum boats are built in the heartland of America, in a region with a rich heritage of boat building that spans generations. Here, craftsmen grounded in the skills of aluminum cutting, forming, welding, fabricating and finishing have applied best-in-class manufacturing strategies to raise the bar on quality and efficiency. The TRACKER® Production System employs the discipline of Lean Sigma techniques used by global leaders in the automotive, aerospace, appliance, computer, and medical equipment industries to deliver never-ending improvement, high quality and appealing products that bring years of enjoyment to their owners.
POPULAR TRACKER MARINE BOAT MODELS:
NITRO Z8 DC
NITRO Z8 SC
NITRO Z9 CDC
NITRO Z9 DC
NITRO Z9 SC
NITRO ZV 21
PANFISH
PANFISH 16
PRO
PRO 160
PRO 165
PRO 170
PRO GUIDE V-16 SC
PRO GUIDE V-16 T
PRO GUIDE V-16 WT
PRO GUIDE V-175 COMB
PRO GUIDE V-175 SC
PRO GUIDE V-175 WT
PRO TEAM 175 TF
SUN TRACKER NITRO SKI-N-FISH
SUN TRACKER PANFISH 16
SUN TRACKER PANFISH 16 JET
SUN TRACKER PANFISH PF16
SUN TRACKER PANFISH PF16 SPECIAL
SUN TRACKER PARTY DECK 21
SUN TRACKER PARTY EXPRESS 20
SUN TRACKER PARTY EXPRESS 24
SUN TRACKER PARTY EXPRESS 2400
SUN TRACKER PRO 15
SUN TRACKER PRO 16
SUN TRACKER PRO 16 JET
SUN TRACKER PRO 17
SUN TRACKER PRO 17 JET
SUN TRACKER PRO 18 JET
SUN TRACKER PRO ANGLER V-16
SUN TRACKER PRO DEEP V-16
SUN TRACKER PRO DEEP V-16 C
SUN TRACKER PRO DEEP V-16 CONSOLE
SUN TRACKER PRO DEEP V-16 DC
SUN TRACKER PRO DEEP V-16 SC
1542 LW
BASS BUGGY
GRIZZLY
GRIZZLY 1448
GRIZZLY 1648
GRIZZLY 1648 SC
GRIZZLY 1754
GRIZZLY 1754 SC
GRIZZLY 1860
GRIZZLY 1860 CC
GRIZZLY 1860 SC
GRIZZLY 2072 CC
GUIDE V-14
GUIDE V-16 LAKER
GUIDE V-16 LAKER DLX
MAGNA
NITRO l BASS BOAT l WIDE l JACK PLATE
NITRO 160TF