VIKING YACHT BOAT COVERS
ABOUT VIKING YACHT
Bob and Bill Healey bought a small New Jersey-based boat company in 1964 creating Viking Yacht. Viking Yacht dedicates itself to the building semi-customized sport fishing and motor yachts ranging from 35 to 82 feet in length. Operating within a modern 810,000 square-foot manufacturing facility, Viking Yacht practices in-house production for almost all vessel components. In 2012, Viking Yacht recorded producing 4,000 vessels over the course of the company's history.

Find your VIKING YACHT boat cover below: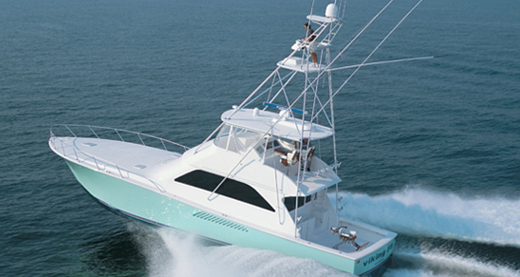 Popular Viking Yachts Boat Models:
CONV SPORT FISHER
CONVERTIBLE
CONVERTIBLE 35
CONVERTIBLE 38
DOUBLE CABIN
EXPRESS
FLY BRIDGE SPORT FISHER
FLYING BRIDGE CRUISER
FLYING BRIDGE DBL CABIN
FLYING BRIDGE SEDAN
SEDAN
SEDAN FISHERMAN 35
SEDAN FISHERMAN 40
SPORT CRUISER
SPORT FISHER
SPORT FISHERMAN
SPORT FISHERMAN 33
SPORT SEDAN 33
Viking Yachts Facts:
The Viking Yacht Company has celebrated four and a half decades in business building luxury performance sportfishing and cruising yachts. Started by brothers Bob and Bill Healey in 1964 when they bought Peterson-Viking Builders, a small, struggling New Jersey builder of 37-foot, wooden sportfishing boats, Viking Yachts has grown to become a world leader in semi-custom fiberglass yacht production with over 4,000 Vikings delivered.