WEERES PONTOON COVERS FROM NATIONAL BOAT COVERS
National Boat Covers offers the widest variety of high-quality boat covers for Weeres Pontoon Boats. Choose the perfect fit boat cover for your exact model and size Weeres Pontoon using our drop down selector menu. Our boat covers are made with waterproof heavy-duty marine grade fabrics such as Sunbrella, Sunflair, and Marinex. These are the best semi-custom fit covers on the market today.
Call our USA based cover experts for assistance. 800.616.0599.


Find your WEERES PONTOONS boat cover below: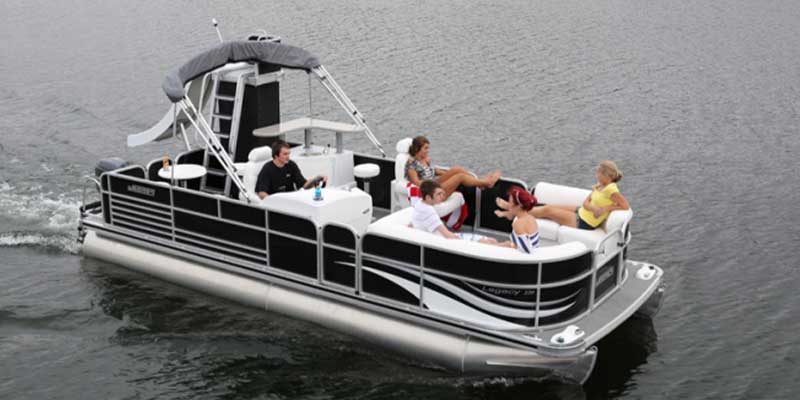 ABOUT WEERES PONTOONS
Ambrose Weeres founded Weeres Industries in 1952 through the construction of a prototype pontoon boat built on steel barrels and a wooden platform. A Pioneer of the pontoon boat industry, Weeres Industries became one of the most influential parties in the recreational marine market. Evolving to incorporate heavy-duty anodized aluminum in the construction of their pontoon boats, modern Weeres Industries watercrafts are built to NMMA design and safety standards.
WEERES PONTOON FACTS 
Weeres Pontoons was formed in 1952 from a farmer's simple idea. In the rural town of Richmond, Minn., Ambrose Weeres had theorized that if you put a wooden platform on top of two columns of steel barrels, welded together end to end, you would have a sturdy deck that would be more stable on a lake than a conventional boat. With his first prototype, the pontoon boat was born. Living in the land of 10,000 lakes, Weeres thought his idea might have some marketing potential. He started out building a small number of boats, calling them The Empress, and sold them locally with the help of a few dealers. Little did he realize just how popular these boats would become. Weeres' workshop couldn't keep up with demand, so he started his own company, Weeres Pontoons, and was soon given the moniker "Mr. Pontoon." In 1991, Weeres was elected to the Minnesota Marine Hall of Fame for his contribution to the world of boating. Sixty years after that first boat, Weeres Pontoons are still being built, but with all the technological advancements of twenty-first-century manufacturing.
Popular Weeres Pontoons Boat Models:
ANGLER 240 3/4 TRIPLE TUBE
ANGLER 240 30" TRIPLE TUBE
AQUA DECK 200 19
AQUA DECK 200 21
AQUA DECK 200-19
AQUA DECK 200-21
AQUA DECK 240 19
AQUA DECK 240 21
AQUA DECK 240 23
AQUA DECK 240 23-I/O
AQUA DECK 240-19
AQUA DECK 240-21
AQUA DECK 240-23
AQUA DECK 240-23-I/O
AQUA DECK 240-I/O
AQUA DECK 280-23
AQUA DECK 280-23-I/O
AQUA DECK 280-I/O
AQUA DECK FLITE 240-23
AQUA DECK FLITE 280-23
AQUA DECK FLITE DECK 280-23

ALLURE 220
ALLURE 220 3/4 TRIPLE TUBE
ALLURE 220 30" TRIPLE TUBE
ALLURE 240
ALLURE 240 3/4 TRIPLE TUBE
ALLURE 240 30" TRIPLE TUBE
AMBASSADOR 24/19
AMBASSADOR 24/23
AMBASSADOR 240-I/O
AMBASSADOR CADET 16/19
AMBASSADOR COMET 18/19
AMBASSADOR DIPLOMAT 20/19
AMBASSADOR HOLIDAY 24/19
AMBASSADOR IMPERIAL
AMBASSADOR SPORTSMAN 20/19
ANGLER 180
ANGLER 180 3/4 TRIPLE TUBE
ANGLER 200
ANGLER 200 3/4 TRIPLE TUBE
ANGLER 200 30" TRIPLE TUBE
ANGLER 220
CADET CRUISE 240 3/4 TRPL TUBE
CADET CRUISE 240 SE
CADET FISH 160
CADET FISH 160 SE
CADET FISH 160-7
CADET FISH 180
CADET FISH 180 3/4 TRIPLE TUBE
CADET FISH 180 SE
CADET FISH 180-7
CADET FISH 200
CADET FISH 200 3/4 TRIPLE TUBE
CADET FISH 200 SE
CADET FISH 240
CADET FISH 240 SE
CRUISE
CRUISE
CRUISE
DLX
DLX
DLX
ECLIPSE 180