WELLCRAFT MARINE CORP BOAT COVERS FROM NATIONAL BOAT COVERS
National Boat Covers offers the widest variety of high-quality boat covers for Wellcraft Marine Corp Boats. Choose the perfect fit boat cover for your exact model and size Wellcraft Marine Corp Boat using our drop down selector menu. Our boat covers are made with waterproof heavy-duty marine grade fabrics such as Sunbrella, Sunflair, and Marinex. These are the best semi-custom fit covers on the market today. Call our USA based cover experts for assistance. 800.616.0599.


Find your WELLCRAFT MARINE CORP boat cover below: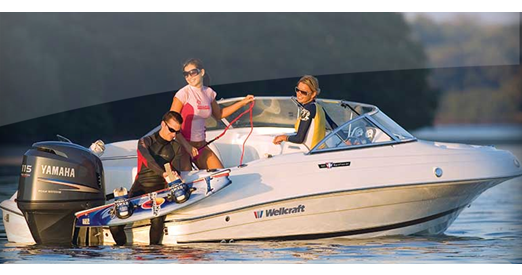 ABOUT WELLCRAFT MARINE CORP BOATS
Building boats since 1955, Wellcraft specializes in the production of saltwater fishing boats of single and dual outboard-engined varieties. High levels of luxury and exceptional horsepower are traits found in Wellcraft Marine Corporation products.
WELLCRAFT MARINE CORP FACTS
Years of boatbuilding expertise make your Wellcraft the landing place for fun, fishing, family time and more. For more than 50 years, we've held fast to the promise of crafting a great American icon. Saltwater or freshwater fishing, Wellcraft has the model to perfectly fit your style. From offshore fishing to Great Lakes fishing, pick your machine and let the fishing begin. Take a look at the line-up and choose the model that will be the start of many memorable moments on the water: Coastal®, Fisherman, Sportsman, and Scarab® Offshore. New features, upgraded amenities, distinctive styling...choose Wellcraft and wear your badge of honor proudly.
Popular Wellcraft Marine Corp Boat Models:
2308 WINNER CNVRTBL 23
24 AIRSLOT FISH
24 WALKAROUND
240 SE
260 SE
29 CCF
32 CCF
35 CCF
AFT CABIN 230
AFT CABIN 255
AFT CABIN 260
AIRSLOT
AIRSLOT 24
AIRSLOT CUDDY CABIN
AIRSLOT WEEKENDER
AMERICAN 166
AMERICAN 170
AMERICAN 180
AMERICAN 190
AMERICAN 192
15T
165 AIRSLOT
165 AIRSLOT FISH
165 SPORT
175 SS
175 SS/S
18 VC
185 AIRSLOT
185 SPORT
1850 SV
186 SS/S
190 AIRSLOT
190 SPORT
196 SUNHATCH
196 SUNRIDER
200 SC/SCS
200 SS/S
21 AIRSLOT FISH
2100 SV
22 WALKAROUND
AMERICAN 192 CUDDY
AMERICAN 2900
ANTIGUA
ANTIGUA 265
ARUBA
ARUBA 232
BAY 195
BAY 215
BOW RIDER
BOW RIDER 180
BOW RIDER 196
BOW RIDER XL 180
CALIFORNIAN MX-II
CALIFORNIAN/CO
CALIFORNIAN/CR
CALIFORNIAN/MY
CALIFORNIAN/SE
CC FISHERMAN 248
23 WALKAROUND
CCF 210