YAMAHA BOAT COVERS FROM NATIONAL BOAT COVERS
National Boat Covers offers the widest variety of high-quality boat covers for Yamaha Boats. Choose the perfect fit boat cover for your exact model and size Yamaha Boat using our drop down selector menu. Our boat covers are made with waterproof heavy-duty marine grade fabrics such as Sunbrella, Sunflair, and Marinex. These are the best semi-custom fit covers on the market today.
Call our USA based cover experts for assistance. 800.616.0599.

Find your YAMAHA boat cover below: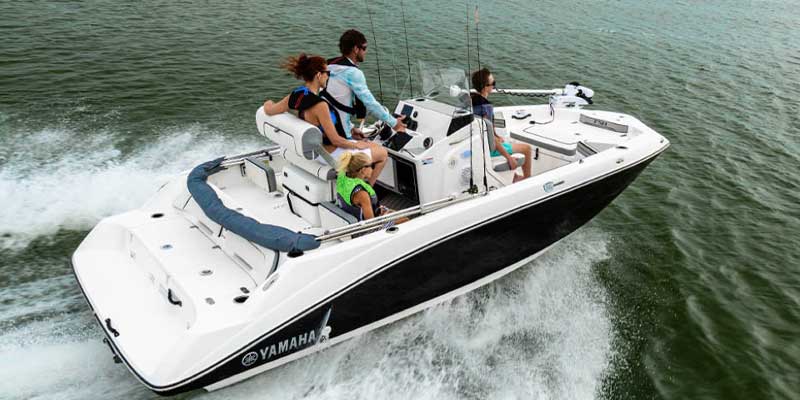 ABOUT YAMAHA BOATS
A multi-national Japanese conglomerate founded in 1955, Yamaha Motor Company produces a plethora of vehicles including cruiser motorcycles, street motorcycles, ATVs, off-road motorcycles, scooters, snowmobiles, side x side UTVs, personal water crafts, speed boats, and outboard motors.
YAMAHA FACTS 
A checkered flag. A scenic panorama unfolding around the bend. A trophy catch. A pulse-quickening stretch of road or trail. Heads turning as you pass by. Even coming home at the end of a hard day's work. Whatever your pursuit, Yamaha is there to satisfy customers and exceed expectations with products and services of superior quality, unmatched performance, and extraordinary value. With an ever-expanding line that includes motorcycles, outboard motors, ATVs, personal watercraft, snowmobiles, boats, outdoor power equipment, race kart engines, accessories, apparel, and much more, Yamaha Motor Corporation U.S.A. strives to contribute to quality of life. Creating opportunities for them is what Yamaha is all about.
Popular Yamaha  Boat Models:
SUPER JET SJ700T
SX 190
SX 192
SX 210
SX 230
SX 230 HO
SX 240 HO
WAVE BLASTER
WAVE BLASTER II
WAVE BLASTER WB700R
WAVE BLASTER WB700S
WAVE BLASTER WB700T
WAVE JAMMER
WAVE JAMMER WJ500D
WAVE RAIDER 1100
WAVE RAIDER 1100 RA1100T
WAVE RAIDER 700
WAVE RAIDER 760
WAVE RAIDER DLX RA700AT
WAVE RAIDER RA700S
WAVE RAIDER RA700T
WAVE RIDER AP 680
WAVE RNNR FX CRUISER SHO
WAVE RNNR FX CRUISER SVHO
WAVE RUNNER
212 SS
212 X
232 LIMITED
232 LIMITED S
242 LIMITED
242 LIMITED S
AR 190
AR 192
AR 210
AR 230
AR 230 HO
AR 240 HO
EXCITER
EXCITER 135 SE
EXCITER 220 TE
EXCITER 270 TE
FX CRUISER HO 50TH ANNV
FX-1 FX700S
FX-1 FX700T
FZR
FZS
LS 2000
LX 210
PRO VXR WRB700R
RIVA GP 1200 R
WAVE RUNNER III WRA650R
WAVE RUNNER III WRA650T
WAVE RUNNER LX WR650P
WAVE RUNNER LX WR650R
WAVE RUNNER SUV
WAVE RUNNER SUV 1200
WAVE RUNNER VX
WAVE RUNNER VX CRUISER
WAVE RUNNER VX DELUXE
WAVE RUNNER VX SPORT
WAVE RUNNER VX110 DELUXE
WAVE RUNNER VX110 SPORT
WAVE RUNNER VXR
WAVE RUNNER VXR WRB650P
WAVE RUNNER VXR WRB650R
WAVE RUNNER VXR WRB650S
WAVE RUNNER VXR WRB650T
WAVE RUNNER VXS
WAVE RUNNER WR500P
WAVE RUNNER WR500R
WAVE RUNNER XL 1200
WAVE RUNNER XL 1200 LTD
WAVE RUNNER XL 700
WAVE RUNNER XL 760
WAVE RUNNER XL 800